Info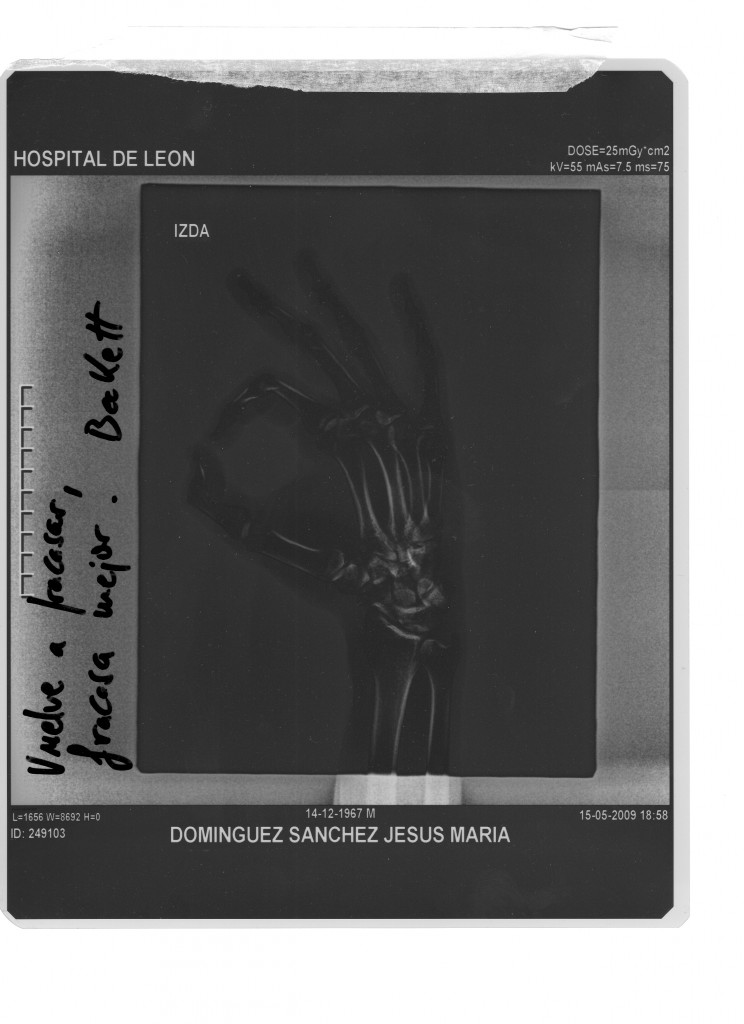 contact_  chusds@gmail.com
Plat.tv (Archivo fílmico online)
Hamaca (media & art distribution)
____
Audiovisual artist in the orbit of non-fiction film, has extended his work to other disciplines such as site specific, performing arts, archive and collaborative work on Internet. His video and film pieces have been selected in many international festivals.
____
Metrópolis. Chus Domínguez, RTVE la 2, feb 2011. Program on culture and contemporary art, Spanish TV
____
Look slowly
Jaime Conde-Salazar, continuumlivearts.com
[…] Chus Domínguez films are a good time to get nervous. Although everything seems to propose is deeply tinged with a strange calm and pleasant. The camera does not move, the frame is stable, no sound effects nor intoxicating music. Only the image that unfolds before us, and immediately, the certainty that one is looking. But again, if we give in and persevere, we reward. These films are not going to provide the expected dose of anesthetic. Perhaps because, beyond what appears on the screen, its subject, its substance is the look itself.
Chus Domínguez behaves as a kind of architect who knows that the framework is the cornerstone of his building. Raising a point of view is like building a space, both tasks will end up defining a vision: those who get into the screening room, will see what the camera will offer, and, accordingly, we'll be and embody the person who sees those things. In this sense, Chus Domínguez films make clear a performative process that makes that, in front of the screen, we build ourselves a look, as a particular subjectivity. What you see in the film becomes more or less accidental and incidental, the important thing is the place it locates you who remain seated in the darkness of the room. The proposal would be something like "you look this way, then you will see just what you finish seeing." Clearly, what is special about these films is "the way" of looking they propose: that place that  Chus Domínguez builds is made of calm and confidence. It is to observe, to take the time to see, for the world been revealed. It is not that the daring filmmaker has been able to cause and capture extraordinary moments and show them to us. He simply let things happen and is aware of that's happening. And that's where the show is redefined: it is not using increasingly sophisticated technologies that will lead to a pleasant state of anesthesia, but being able to be fascinated by the things that happen in the world constantly. It's about how you look. The show is rather the promise that the world is going to reveal and will provide us with images capable of making ourselves understand. Trucks, sheep, river, light from the street are epiphanies. And Chus Domínguez films create the building so that we receive them. Once the lesson is learned, it's just go out, stop and let the world do wonderful things.
____
Awards
2016
2013
Menzione speciale come miglior film sperimentale, Ángel caído (Fallen angel), Festival Internazionale del Cinema d'Arte, Milano, Italy.
Special Diploma of Jury, Fallen Angel,  Kansk International Video Festival, Kansk, Siberia, Russia.
Special Prize for Video Art, Ángel caído, 16. International Film festival ZOOM – ZBLIŻENIA, Poland.
2012
Honorable Mention, InShadow, Festival Internacional de Vídeo, Performance e Tecnologias, Lisboa, 2012.
Award for the best film on art conservation and restoration, Museo, International Film Festival "Document.Art", Rumanía.
Mención tratamiento de la imagen – internacional, Catálogo de escenarios para la muerte de Pier Paolo Pasolini,  3er Festival de Cine hecho con Cámara de Fotos / SCDFIII-Rojas, Buenos Aires.
Mención especial del Jurado, O tempo dos bullós, Surcos Online 2012, Benalauría (Serranía de Ronda, España).
2º Premio del V Certamen de Videoarte Ayto.de Astillero-El Almacén de las Artes, Cantabria.
2011
Premio del jurado, Festival FilMO, Gijón.
3er Premio Certamen Nacional de Cortometrajes, Alcine, Festival de Cine de Alcalá de Henares, Alcalá de Henares (Madrid).
Mejor Cortometraje Documental, 43ª Nuestra Cinematográfica del Atlántico, Cádiz.
Premio No Ficción, Festival Visual XI, Cine Novísimo, Majadahonda (Madrid).
Mención Especial, Festival internacional de vídeo i arts digitals VAD, Girona.
Premio Sección Experimental, Fascurt 2011, Festival de cortometrajes del Masnou (Barcelona).
2010
Mención Especial del Jurado, Alcances, 42 Muestra Cinematográfica del Atlántico, Cádiz.
Premio Proyecto X Films, Festival Internacional de Cine Documental Punto de Vista, Pamplona.
Grand Prix award, One Take Film Festival, Zagreb (Croacia).
Premio retina Contemporánea, Festival de Cine de Ponferrada (León).
2009
Premio al mejor documental, Certamen de Documental e Vídeo Secuenciacero, Vigo.
Premio especial del jurado de la sección internacional, Festival Internacional de Curtametraxes Curtocircuíto, Santiago de Compostela.
Finalista para el premio al mejor cortometraje internacional documental, Festival Int. de Curtametraxes Curtocircuíto, Santiago de Compostela.
Cinema Award (film's contribution to cinema as an art form), UNC Charlotte Short Film Festival (USA).
Premio al mejor cortometraje en formato digital de Castilla y León, Semana de cine de Medina del Campo (Valladolid).
2006
Premio a la mejor fotografía, 7º Festival Internacional de Documentales "Santiago Álvarez In Memoriam",  Santiago de Cuba (Cuba).
Menzione speciale, Euganea Movie Movement, Festival internazionale del cortometraggio e del documentario (Italy).
2005
Mención honorífica Semana Internacional del Cortometraje de San Roque (Cádiz).
Primer premio, I Festival de Videocreación Lekuz Leku, Bilbao.
2004
Premio al Mejor Documental, Semana Internacional del Cortometraje de SAN ROQUE (Cádiz).
Award Best Documentary, BLACK&WHITE FILM FESTIVAL, Oporto (Portugal).
Premio al Mejor Documental, Festival "CIUDAD REAL 2004" .
Premio a la Mejor Fotografía, CORTOMIERES. Festival de Cortometrajes de Mieres (Asturias).
Documental Finalista, SEGUNDO DE CHOMÓN. Certamen de Cortos de Zaragoza.
2003
Gran Premio del Cine Español, ZINEBI 03. Festival Internacional de Cine Documental y Cortometraje de Bilbao.
Premio al Mejor Sonido, ALCINE 33. Festival de Cine de Alcalá de Henares (Madrid).
2001
Mención Especial del Jurado, Festival de Cortometrajes de Mieres (Asturias).