Orquestina de pigmeos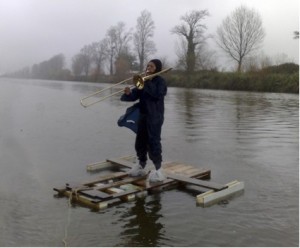 Orquestina de pigmeos es un colectivo experimental dedicado a la intervención site specific. Las acciones que propone son eminentemente efimeras y vinculadas al momento de su ejecución y al entorno en el que se desarrollan, e implican en muchas ocasiones a la población local. Sus creaciones utilizan elementos tomados de diferentes disciplinas artí­sticas, principalmente el arte sonoro, la performance, el cine y la música. Orquestina de pigmeos ha participado en varios festivales en España, Portugal, Bélgica e Inglaterra.
Orquestina de pigmeos is an experimental collective dedicated to site specific intervention. The actions proposed are essentially ephemeral and linked to the moment of execution and the environment in which they develop. Their creations use elements from different artistic disciplines (sound art, performance, cinema, music) and usually requires the cooperation of local residents and public participation. Orquestina de pigmeos has performed in different festivals in Spain, England, Belgium and Portugal.